Take Control of your Color and Paint with Confidence
Are you struggling with color? Are you a digital artist that wants to finally have control of your colors and paint with confidence?
If you answered yes then you're probably just like me…
For years I struggled with color. Even though I was already a working professional in video games I didn't have a clue about color. I could paint digitally but I could never get consistent results. I just didn't know how color worked.
Then one day I decided to get serious about painting and color.
I travelled to Los Angeles to study with some of the best painters in the world. I took classes, workshops and painted everyday.
After years of study, practice, training and real-world experience, my color and paintings improved dramatically. My work started to get noticed which led to more and more opportunities, including getting published in books, magazines and painting commissions.

If you're looking to get your digital art noticed and take your color to the next level…or if you're ready to start painting in color with control and confidence, then this is the right workshop for you.
What you will learn:
simple and easy to understand color theory
how to mix colors correctly
how to choose harmonious color palettes
how to make bold paintings with limited palettes
practical and fun exercises to help you improve your color fast
How does it work?
Ultimate Color Bootcamp is a two day, intensive online workshop. Each day of the workshop will feature at least two hours of lecture, demonstrations and Q&A time where students will be able to interact directly with the instructor.
Most important of all, the workshop features homework assignments and critiques.
Are you feeling stuck?
Color and painting is a complex and difficult subject to learn. Especially if you are working alone. When I first started to learn color, I would do color sketches and studies everyday but I felt like I was going nowhere. I was so frustrated because I wasn't getting the results I wanted and I didn't know how to improve or what to do to change.
It wasn't until I found my first color and painting mentors, that things changed and I started to see improvement. I finally had the guidance I needed to help me break through my barriers.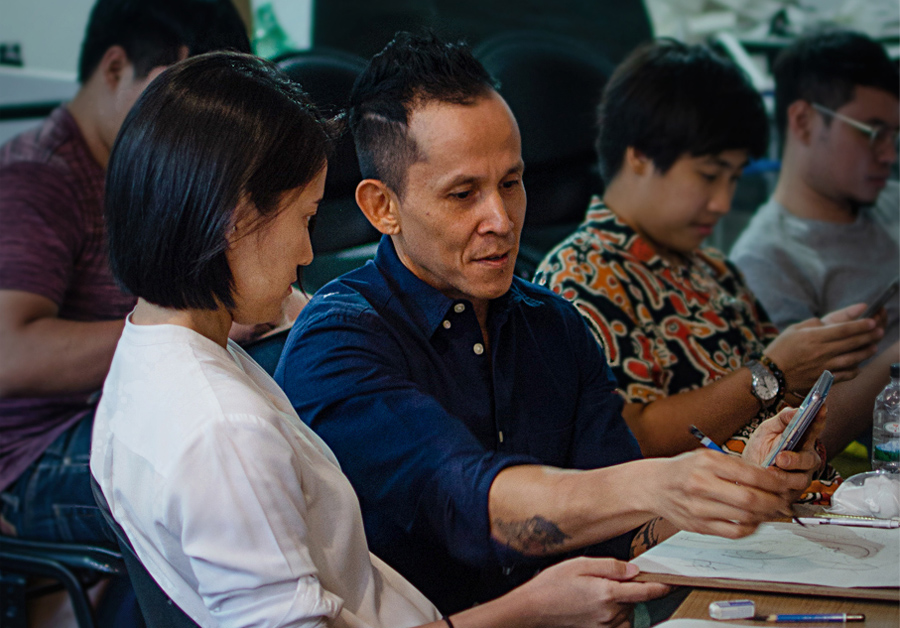 The most important feature of this workshop is that each student will receive personal feedback, guidance and a critique of their completed homework assignment.
Students who complete their assignments can get up to 2 critiques. The first critique will be given at the last day of the workshop. The second critique will be a paint-over of the completed homework final.
Video courses and books are very helpful, but nothing compares to getting personal guidance, feedback and critique from an expert instructor. Critiques will allow the students to be accountable and get the most out of the knowledge and information in the workshop.
Schedule
*All dates and times are in Pacific Standard Time (GMT -8)
Monday, Dec 14 – Workshop Day 1
6:00 – 8:00 pm, Lecture & demonstration
8:00 – 8:30 pm, Homework assignment, Q&A
Tuesday, Dec 15 – Workshop Day 2
6:00 – 8:00 pm, Lecture & demonstration
8:00 – 8:30 pm, Critique, Q&A
Course Outline

Day 1 – Tonal Painting, Design and Mixing
observing values in color
using design to choose colors and control saturation
how to mix harmonious warm color palettes
how to mix harmonious cool color palettes
Day 2 – Color Palette Mastery
choosing harmonious 2 color palettes
mixing dynamic colors with a limited palette
how to control color and value in the shadows
homework assignment and 30 day action plan
About the Instructor
Chris Legaspi is a painter and professional illustrator with over 15 years of experience. His work can be seen in hit movies, TV shows and video games. His most notable projects and clients include Deadpool 2, Star Trek Online, The Simpsons, Marvel, Disney and Warner Bros. Pictures.
Along with his professional experience, Chris is a popular and admired author and instructor. He has taught digital painting and design at some of the most prestigious art schools in the world including Gnomon and the New Masters Academy.
His clear and elegant communication style combined with his passion for teaching has allowed his students and mentees to reach new levels in their artwork and careers. Several of Chris' former students have gone on to work professionally in entertainment, video games and comics.
See below for a sample of Chris' paintings and illustration work.

For more artwork and to learn more about Chris, click here to see the full portfolio or on Instagram @chrislegaspi_art.
Who is this Workshop for?
Ultimate Color Bootcamp is the first and only color workshop for digital artists and illustrators. This workshop is specifically designed for artists who want to improve their color for:
freelance illustration
book covers
card illustrations
comic book coloring
concept artists
students who want to work in the entertainment industry
teachers, professors and art instructors
Even if you paint as a hobby or are just starting with color, this workshop will be a great foundation and jump start for your digital paintings.
What if I can't make the live class?
Students are highly encouraged to join the class live to get the most out of the experience. However, if a student can not make a live class, the replay of the lecture will be made available. Please note, the first critique will be live and students must be in attendance to participate.
How is this workshop different from the Laws of Color course?
The Laws of Color is a great resource for video learning and self study. What makes Ultimate Color Bootcamp unique is that it is a condensed, live learning experience where students will have the ability to ask questions and interact with the instructor.
Along with the live lectures and Q&A, students will also get personal guidance and critiques of their completed homework to help them learn the material and improve much more rapidly.
If I use Procreate or other digital painting apps can I still take the class?
Yes, definitely. Because this workshop is focused on color principles and color mixing techniques, the information will apply to all digital painting apps.
Although the demonstrations will be in Photoshop, the digital tools and techniques such as layers and image adjustments, easily translates to other digital painting apps like Procreate, Clip Studio or Sketchbook Pro.
I am a traditional artist, can I still take the class?
Yes. Because this workshop is focused on color principles and mixing techniques, the information applies to all painting mediums.
However, the medium used in the demonstrations will be Photoshop so at least an intermediate level with Photoshop or other digital painting apps is required.
A traditional painting workshop will be offered soon. For most current schedule and announcement, visit drawwithchris.com/subscribe to get free updates and notifications.
Are you ready to take control of your color and paint with more confidence?
Class begins Monday, July 6th. Take control of your color to the next level. Click the blue button above to join the Ultimate Color Bootcamp…
Reviews and Testimonials
"Chris is a terrific teacher and a real talent."
— Steve Huston, USA, Master painter, author and instructor
"Thanks again for helping me out and guiding me. I am way better now than when I first started."
— Othell Flowers, Chicago, Comics Artist
"I'm an Italian professional illustrator and I found your course invaluable. Thank you."
— Luca Gennai, Italy, Illustrator