Turn Your Drawing Skills Into Income
Have you ever dreamed of working as a movie poster artist? Have you ever wanted to get paid to draw your favorite actor, movie villain or comic book character?
If you answered yes then you're probably just like me…
Growing up I always loved to draw. When I finally got serious about making money as an artist, it took me years before my work got noticed.
Years of low paying, uninspiring jobs that lead to nowhere…
It wasn't until I found the right mentors, learned the right skills and developed the right mindset that I finally broke into the entertainment industry.
Now, after more than 10 years of professional experience, I've decided to teach not only the skills needed to draw movie posters for Hollywood films and TV shows, but how to make money as an artist.
Real World Experience, Real World Results
One of my very first assignments as a poster artist was the Warner Bros. feature film "Life of the Party". These are official concept drawings for the poster.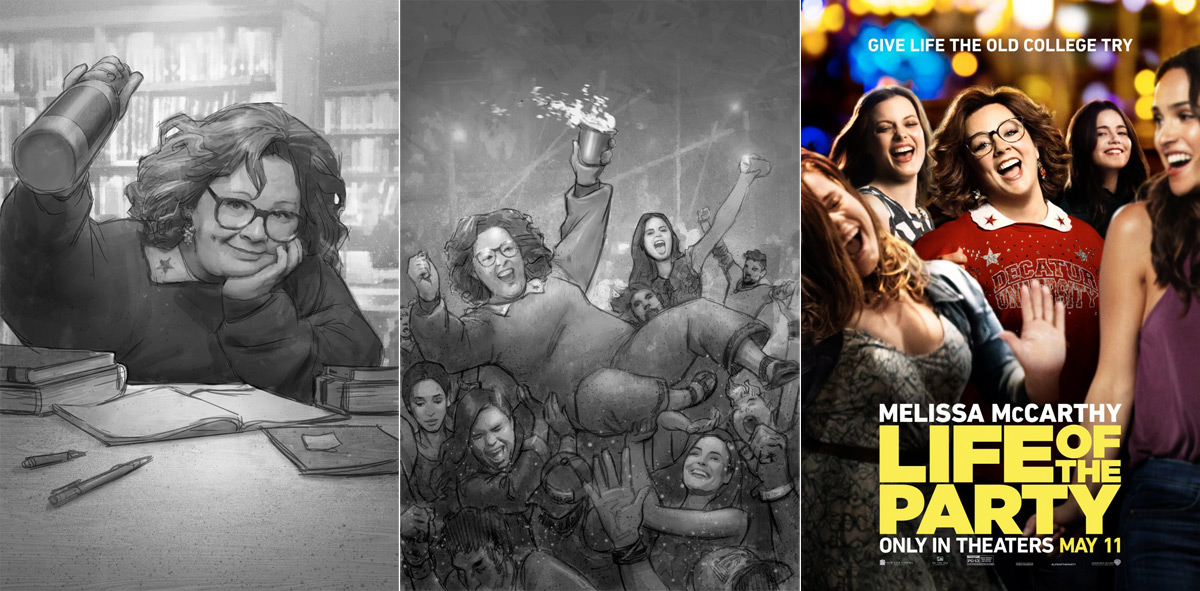 I was paid $1912.50 for 3 days of drawing as a 'rookie' on my very first feature film.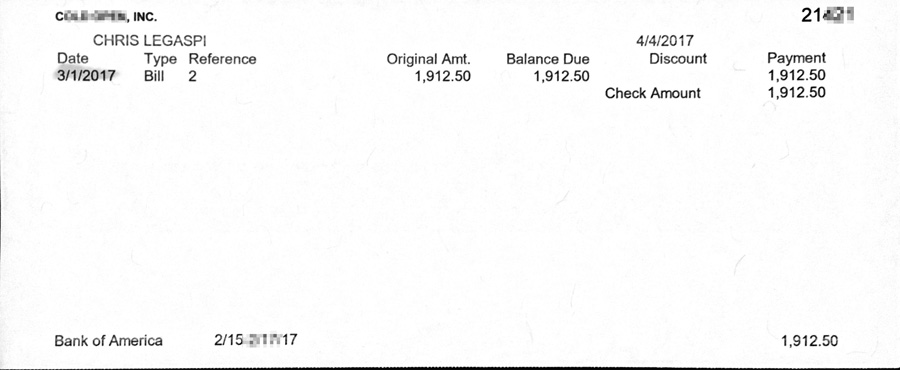 No Hollywood contacts, no college degree and no previous experience. Just having the right skills, professionalism and the right mindset.
Real World Business Coaching for Artists
Unlike most art classes that just teach knowledge, Poster Artist Bootcamp will also guide students on the business side of art.
Students will be guided on building an effective portfolio and how to get hired as a professional poster artist. In other words, students will not only learn how to draw like a pro, but how to get paid to draw.
Entertainment and the movie poster industry is fast paced and demanding, so this workshop will give the students the tools they need to be prepared to not only break in the industry but stay working and stay busy.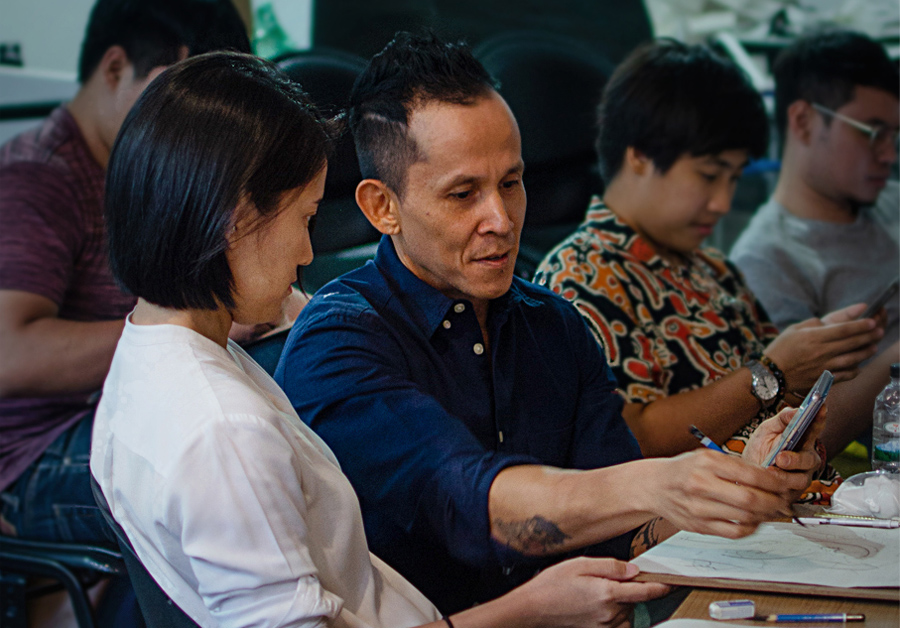 Feedback and Critiques of Student Work
After each class session students will get detailed assignments where the instructor will personally critique their work and give detailed feedback on how to improve.
Video courses and books are very helpful, but nothing compares to getting personal guidance, feedback and critique from an expert instructor. Critiques will allow the students to be accountable and get the most out of the knowledge and information in the workshop.
Class Schedule
Day 1, Wednesday, Dec 16, 6:00 – 8:00 pm PST (GMT +7)
Day 2, Thursday, Dec 17, 6:00 – 8:00 pm PST (GMT +7)
Classes will be streamed live with full replay available. Critiques and portfolio review will be given after the live classes via the private Facebook group.
Course Outline

The class will take place over 2 days. Day 1 will focus primarily on skills, especially head drawing, figure drawing and design. Day 2 will focus on the business side of art.
Day 1 – Essential Drawing and Design Skills
Fast, accurate and realistic heads and faces
Realistic, costumed figure drawing and inventing poses
Designing eye-catching poster concepts
Day 2 – Business of Art
My rapid rendering and fast finishing process
Portfolio building and consultation
How to apply for work and how to get hired
Homework assignment and action plan
About the Instructor
Chris Legaspi is a long time professional illustrator with over 10 years of experience. His work can be seen in hit movies, TV shows and video games. His most notable projects and clients include Birds of Prey, Deadpool 2, Shaft, Luke Cage, Marvel, Disney and Warner Bros. Pictures.
Along with his professional experience, Chris is a popular and admired author and instructor. He has taught at some of the most prestigious art schools in the world including Gnomon and the New Masters Academy.
His clear and elegant communication style combined with his passion for teaching and helping serious and dedicated students has allowed his students and mentees to reach new levels in their artwork and careers. Several of Chris' former students have gone on to work professionally in entertainment, video games and comics.
See below for a sample of Chris' movie poster and illustration work.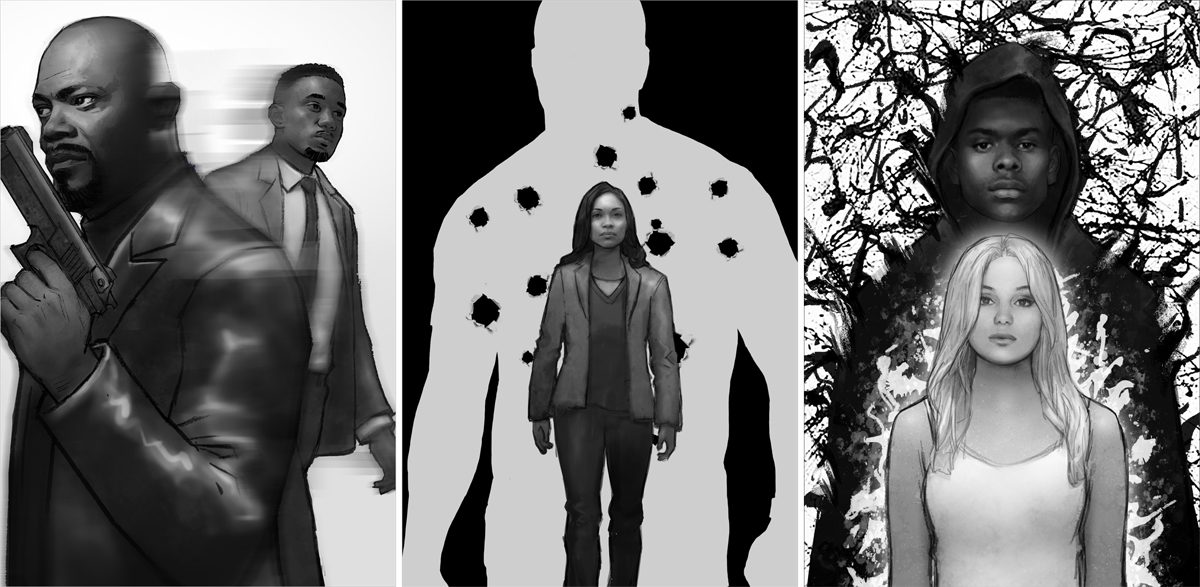 For more artwork and to learn more about Chris, click here to see the full portfolio or on Instagram @chrislegaspi_art.
Ready to learn skills that pay the bills?
Class begins Monday, April 20th. Reserve your seat today and get the knowledge and skills needed to prepare yourself for a career in the movie poster industry. Click the blue button above to register.
Reviews and Feedback
"Thanks again for helping me out and guiding me. I am way better now than when I first started."
— Othell Flowers, Chicago, Comics Artist
"I'm an Italian professional illustrator and I found your course invaluable. Thank you."
— Luca Gennai, Italy, Illustrator